#1: LOWER REGIONS

Storytellers: ALEX ROBINSON
Publisher: TOP SHELF
Year Of Publication: 2007
Page Count (can be approximate or in # of issues format): 54 pages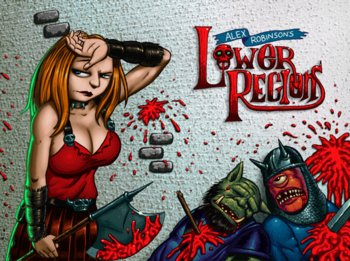 WHAT I LEARNED ABOUT WRITING / STORYTELLING:
This was a wordless comic.

I think because of this – and possibly due to the genre and the playfulness Robinson incorporated into this book – I was never able to connect with the characters.

It isn't until halfway through the story that one is finally shown what the motivation for the protagonist is, and I think that hurts it.

WHAT I LEARNED ABOUT ART / STORYTELLING:
Because it was a wordless comic, Robinson was forced to rely entirely on the visuals to tell the story, and he managed that very well.

One panel, in particular, showcased how to lead the reader's eye from one page to the next without sacrificing story-logic.

It is in the final panel of a left-facing page where the protagonist is thrown by a monster.

Robinson has the trajectory of this throw angled up toward the next page and accentuates this by drawing the panel with its top border angled up and to the right, as well, sending the reader's eye up to the very next panel where the story continues.

NOTES / REVIEW / SYNOPSIS:

This read like a D&D adventure put into comic form, utilizing the tropes of the dark fantasy genre.

It was well done, in that regard, and there were some inventive storytelling moments, but overall, it felt "lightweight" and isn't something I expect to re-read.

Considering it's a wordless book, the $7 price tag could be off-putting, but if you can get it during the annual Top Shelf blowout sale, as I did, it's worth it.